Welcome to the contemporary DIY desk world! These desk projects are ideal if you want to create a workstation that is not only functional but also reflects your personal style.
The choices are boundless, ranging from elegant and minimalist designs to rustic and industrial-inspired compositions. In this article, we'll look at 23 sleek, ingenious DIY desk ideas to get you inspired and your hands dirty and get creative.
Whether you're a novice or a seasoned DIYer, these ideas will allow you to personalize your workstation and unleash your creativity. Prepare to change your office into a personalized refuge with these creative and cost-effective DIY desk designs.
Prepare to let your mind's imagination run wild, roll up your sleeves and start on gratifying DIY adventure to create a modern desk that stands out from the rest. Get your hands dirty, reuse those pallets, and start on a rewarding journey of craftsmanship and sustainability.
Craft Your Dream Workspace with DIY Desk Ideas
1. Write Notes on a Float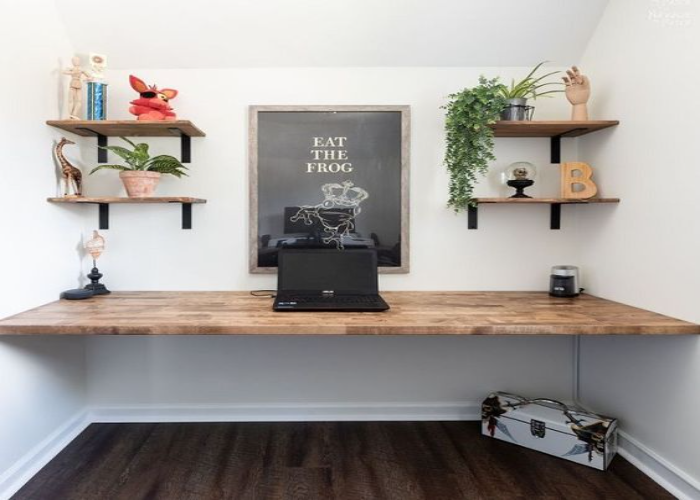 A floating wall-mounted desk is a fashionable and space-saving alternative for creating a practical office in smaller places or rooms with limited floor space. This desk is mounted to the wall directly, creating the illusion of a floating surface without the need for legs or cumber-stone supports. Choose the materials you'll be using for the desk. Wooden boards, plywood, and even reused materials are popular possibilities.
2. Hand and Stand-In Command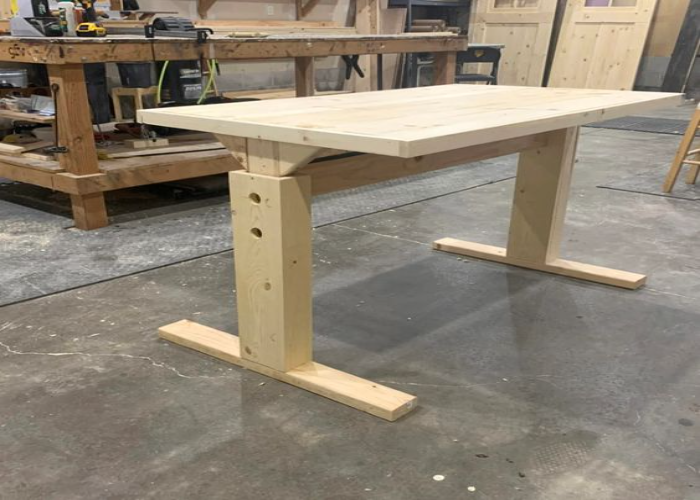 A standing desk converter is a multipurpose item that converts your standard desk into a standing workstation. It has an adjustable platform where you can place your computer, keyboard, and other work necessities, allowing you to work standing up instead of sitting for long periods of time. Standing at work can help boost energy levels, minimize weariness, and boost creativity and focus, resulting in increased productivity.
3. Pair Twin with Hair Pin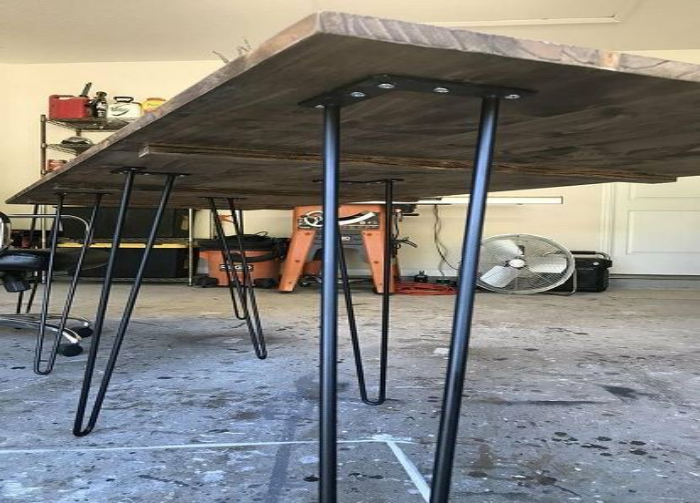 You'll need a desktop surface, hairpin legs, screws, and basic woodworking tools like a drill, screwdriver, and measuring tape to make a hairpin leg DIY desk. The desktop surface might be a pre-cut wooden board or a recovered piece of wood that is the right size and style for you. Hairpin legs are available in a variety of heights and sizes to accommodate a variety of desk heights and weights. You can also choose from different finishes, such as raw steel for an industrial look or colored powder-coated options for a pop of color.
4. A Type with a Pipe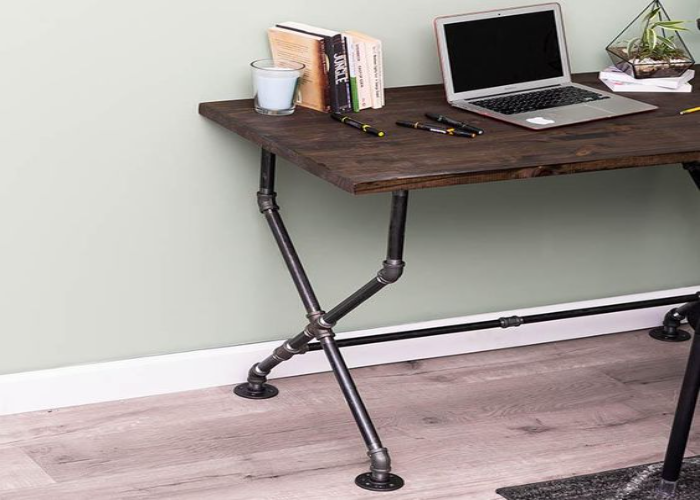 DIY pipe desk projects allow you to construct a one-of-a-kind and elegant office that reflects your creativity. A pipe desk may be a utilitarian and eye-catching addition to your office or home, whether you're going for an industrial, rustic, or eclectic aesthetic. Ensure correct installation and stability, and then relax and enjoy the delight of a personalized desk that represents your unique taste. You only need pipe fittings, screws, and a plank of wood. Assemble the pipes to achieve the proper ergonomics of level and aligned pipes to build a solid and balanced desk structure.
5. Restore the Door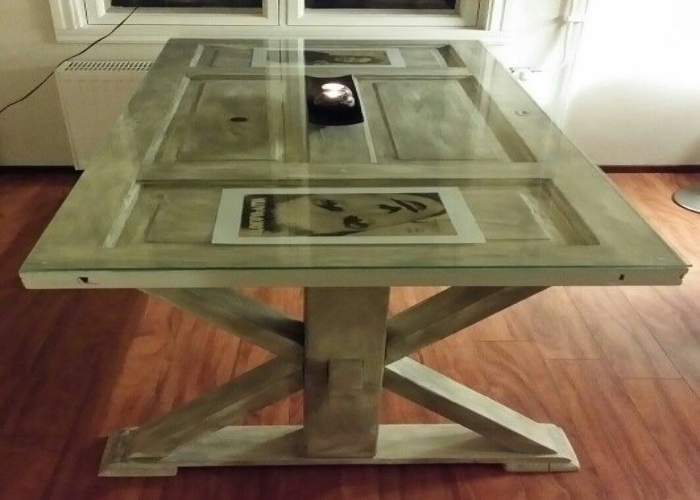 Repurposing a door into a DIY desk not only creates a one-of-a-kind workspace but also breathes new life into an old item. It's a terrific opportunity to express your creativity while still making a sustainable option. Enjoy the process of transforming a door into a functional and elegant desk that reflects your particular style and gives your workstation personality. Choose a substantial and durable door that fits the size of your desk. It could be a salvaged door, an ancient internal door, or a vintage wooden door with intriguing characteristics.
6. Cubbies with Ply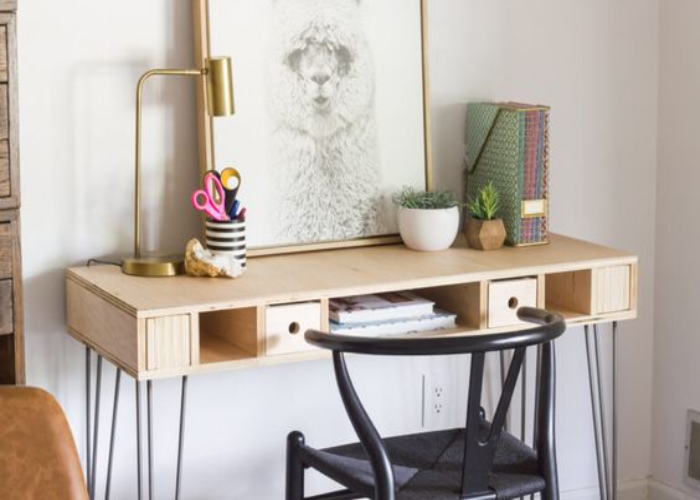 Building a DIY plywood desk with storage cubbies is a useful and adaptable project that may provide a functioning workspace with plenty of storage possibilities. Determine the proportions and style of your desk, taking into account available space and storage requirements. Create a precise layout for your design, including the size and positioning of the storage cubbies.
7. The Ladder Matter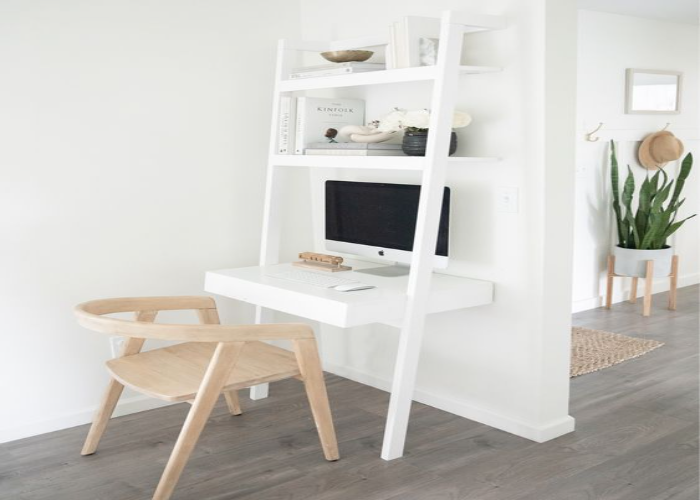 A ladder-like framework is used to combine a desk with shelves to create a versatile and fashionable ladder desk. A do-it-yourself project to build your own ladder desk and a fun and economical method to build a useful and space-saving workstation. Whether you're an experienced DIY enthusiast or a novice looking for a fun project, you can create a customized desk that matches your needs and adds character to your room.
8. Don't Wrestle with The Trestle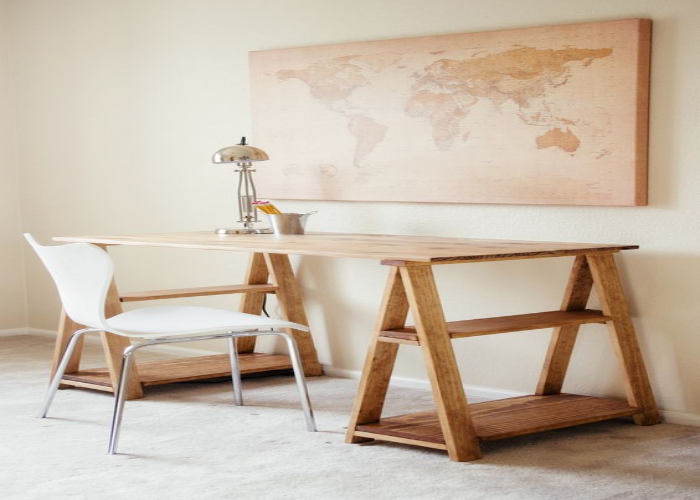 A traditional piece of furniture, the trestle desk is distinguished by its open shape, strong construction, and simple lines. A tabletop is supported by two or more trestle legs, providing a simple but fashionable work surface. Building a trestle desk as a DIY project may be a pleasant and rewarding endeavor, whether you need one for your home office, studio, or study room. You can personalize it to your own taste and design a workstation that is ideal for your requirements.
9. Combo for Two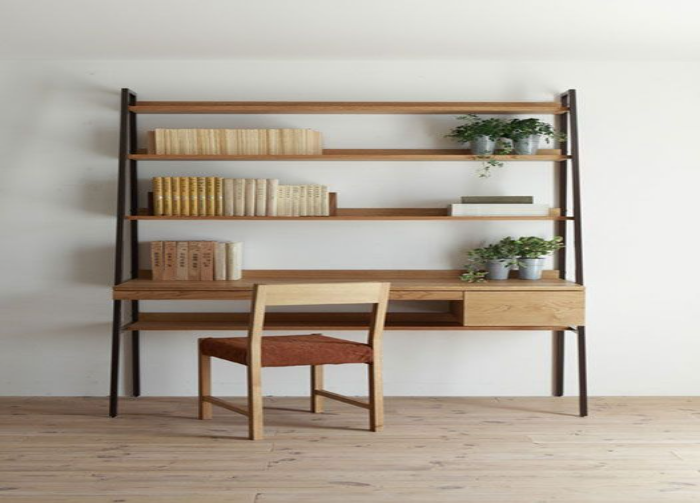 This creative and practical project combines the functionality of a bookshelf with other elements and additional features like a desk, a seating space, or even a Murphy bed. You can design your own bookshelf combination to meet your room, taste, and any particular needs. With this DIY project, you can maximize your storage space while giving your house or business a distinctive, personalized touch. Build your very own Bookshelf Combo, giving you a functional and fashionable piece of furniture that is guaranteed to turn heads. In order to make your area a useful and alluring haven for your books and more, opt for the Bookshelf Combo.
10. Stay on Course with Sawhorse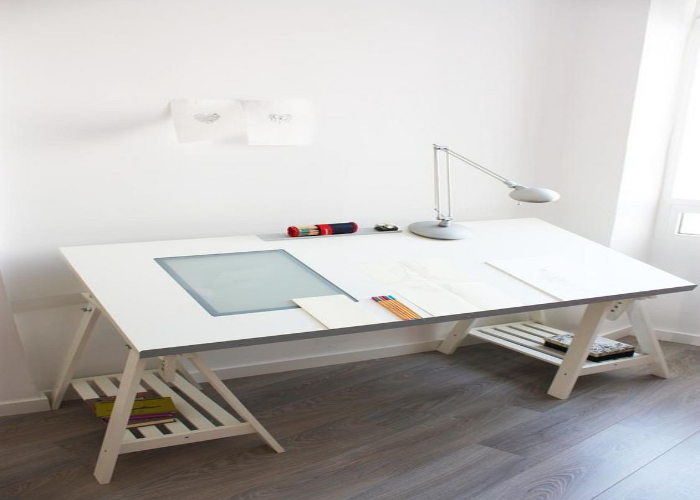 For individuals who value contemporary, minimalistic appearances along with the strength and stability of sawhorse legs, a sawhorse desk is a popular option. This adaptable piece of furniture may be used in any room, including a shared workstation, a studio, or even a home office. By taking on a sawhorse desk DIY project, you have the chance to completely personalize the desk to suit your preferences, ensuring that it blends in with your decor and fulfills your unique needs. Build your own sawhorse, giving you a chance to demonstrate your creativity and skill, producing an attractive workspace.
11. Up-Cycle to Recycle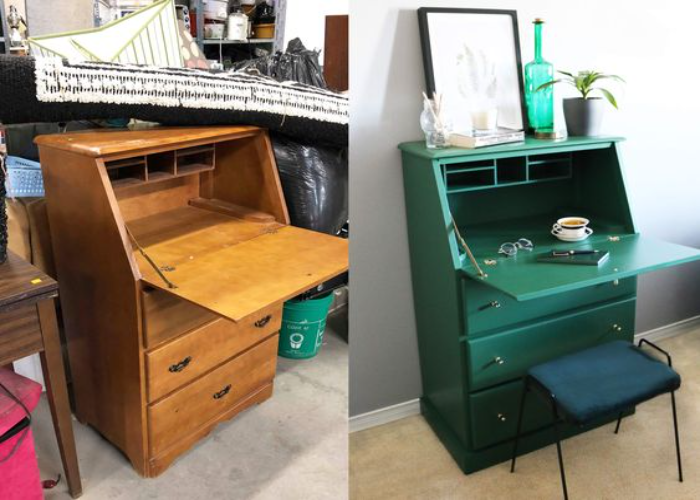 Palette furniture up-cycling has grown in popularity in recent years due to its eco-friendliness and rustic appeal. You can make a one-of-a-kind desk out of old pallets, adding individuality to your workstation while decreasing trash. This DIY project allows you to use your imagination and woodworking talents to turn pallets into useful and elegant desk that meets your needs. It is most definitely a low-cost, environmentally friendly option.
12. Get Hooked on The Nook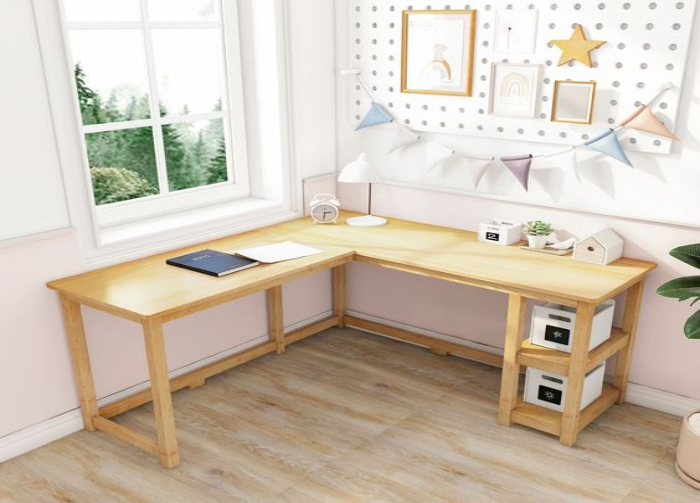 Corner workstations are a practical and efficient way to make use of your room's sometimes neglected nooks. A corner desk may maximize your workspace while smoothly blending into your existing arrangement, whether you have a small apartment or a large office. You can customize your corner desk to your exact specs and design preferences by creating it yourself. This DIY allows you to build an elegant desk that meets all your needs.
13. Roll with The Folds
A foldable wall-mounted desk is an excellent choice for individuals who have limited space or prefer a simple style. It provides the convenience of a practical desk that folds up simply when not in use, allowing you to regain important floor space. You have the opportunity to design a custom-made desk that meets your demands by tackling this DIY project.
14. Stand on Your Feet with Concrete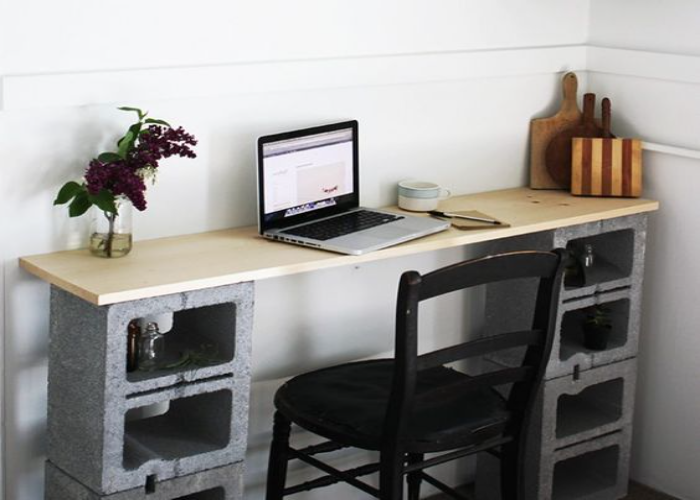 This distinctive desk design mixes the raw beauty of concrete with the efficiency of the workspace by using concrete blocks as the basis. It not only provides a robust and long-lasting construction but also adds a sense of minimalistic beauty to any environment. You have the opportunity to construct a custom-made desk that exactly suits your space and design choices by tackling this DIY project. This one-of-a-kind piece of furniture will reflect your creativity and craftsmanship.
15. Draw on Chalk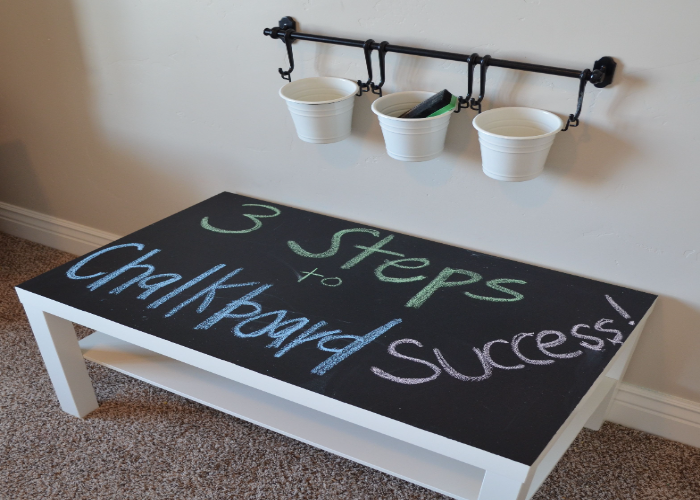 This exclusive deck design mixes the raw beauty of masonry with the practicality of a workplace by using concrete blocks as the basis. It not only provides a robust and long-lasting construction, but it also adds a sense of austere beauty to any setting. You have the opportunity to construct a custom-made desk that exactly suits your space and design choices by tackling this DIY project.
16. Let's Go, Vintage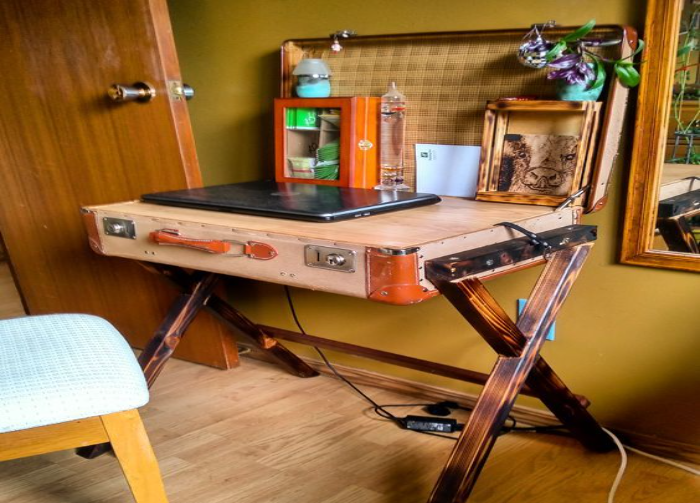 In addition to giving new life to a discarded item, turning an old suitcase into a useful desk provides your workstation with a nostalgic and unique touch. A vintage suitcase desk is a terrific option whether you adore the antique design or just want to start a conversation. You may transform a suitcase into a unique and useful desk that meets your needs.
17. File It to Dial It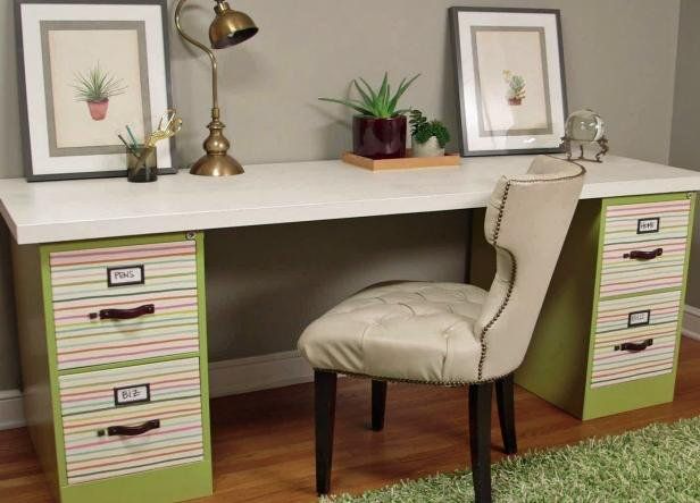 Leveraging the storage capacity of the cabinet, you can turn a file cabinet into a desk to make a useful and effective workspace. In addition to being useful, this project gives you a chance to give your workplace or study space a unique flair. A file cabinet desk is an ideal option for anyone who values organization, whether they are students or professionals. This File cabinet desk combines storage, usefulness, and design.
18. Scrabble the Puzzle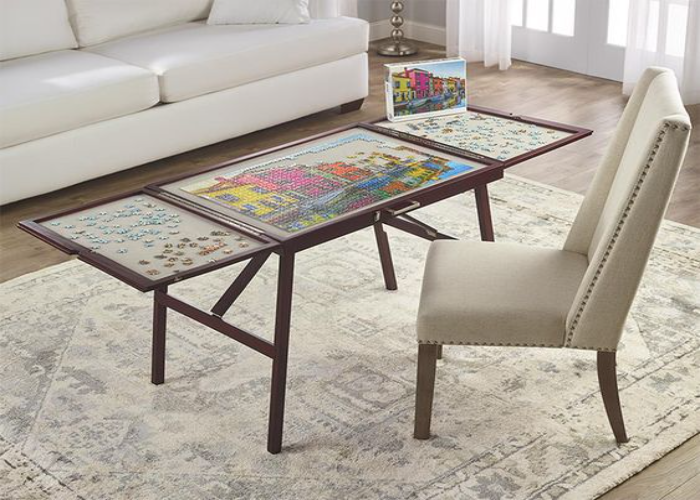 A puzzle desk blends the creativity and excitement of a puzzle with the practicality of a workspace. It's a great choice for individuals who like to solve puzzles and wish to include that activity in their regular workday. You may design a unique and engaging workspace that inspires creativity and keeps your mind active by making your own puzzle desk. Display your passion for puzzles and inject some fun into your workplace.
19. Slash the Legs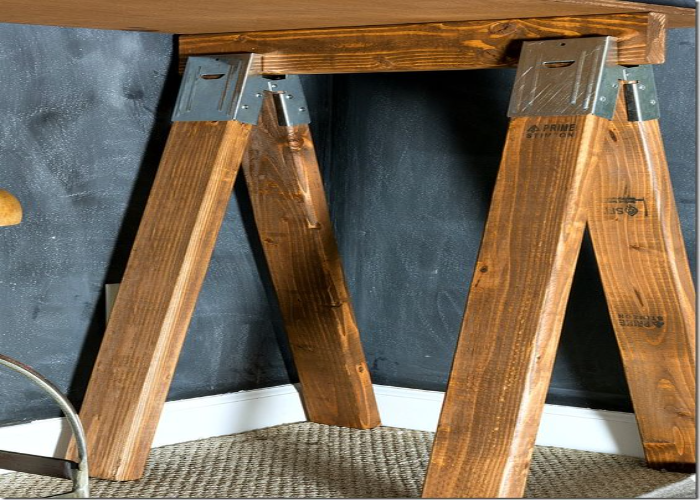 By repurposing table legs and transforming them into desk supports, you can create a unique kind of desk that showcases your ingenuity and adds a distinctive flair to your office or study area. This project allows you to unleash your creativity and customize the desk to your exact specifications. Whether you prefer a rustic, industrial, or modern style, a Sawed-off table legs desk provides you with a highly functional workspace that is sure to impress.
20. Reclaim Ore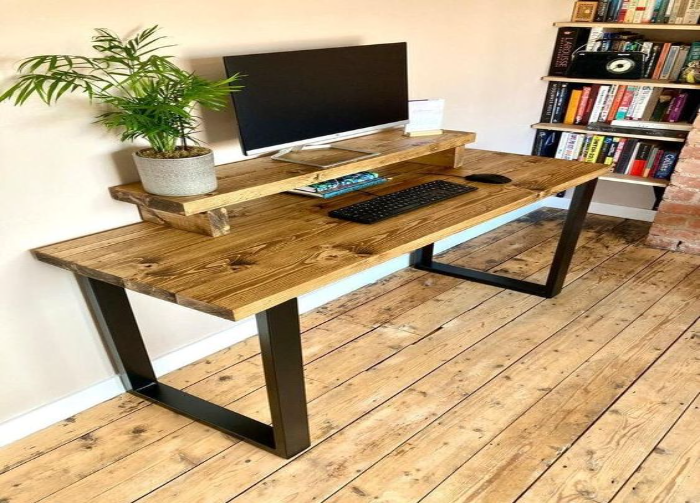 By blending the warmth and character of reclaimed wood with the resilience and sleekness of metal, you can create a desk that is not only visually pleasing but also utilitarian and long-lasting. You can repurpose materials and customize your desk to meet your taste and space with this DIY project. A recycled wood and metal desk adds character and originality to any space, whether its a trendy loft or a cozy home office.
21. Pour on The Core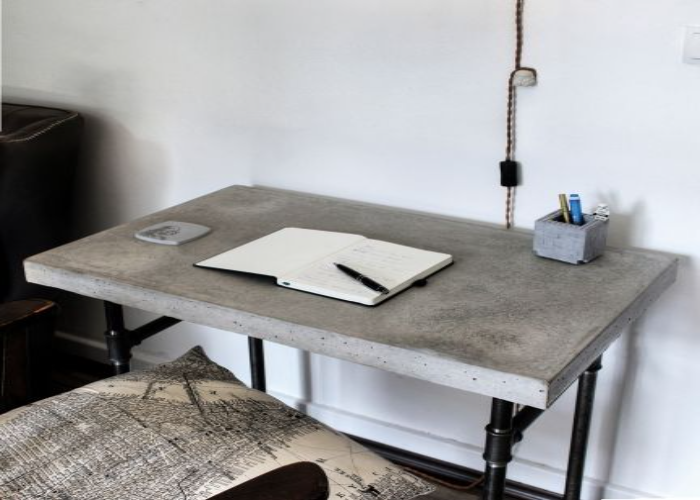 Concrete desks are made out of basic mixtures of cement and sand that are blended and put together to make a plywood-based framework. Once you have decided on the size and layout of your concrete countertop, take into account the available space as well as the desired shape and size of the countertop. Use putty to achieve a cemented and grey finish.
22. Cable in The Table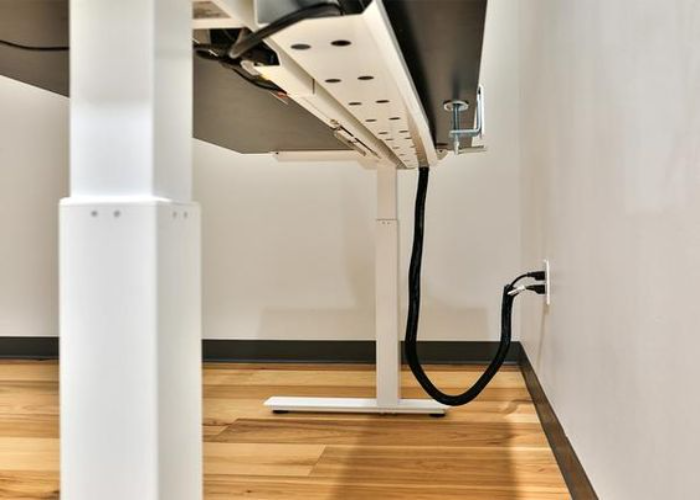 To keep your wires organized and out of sight, build a desk with built-in cable management solutions, such as concealed compartments or holes. To position the cable inside, use G or C profile handles by attaching it arbitrarily. Install a power strip or surge protector beneath the desk or within a wire management accessory. This will help centralize the power source while reducing cable clutter.
23. See the Cubes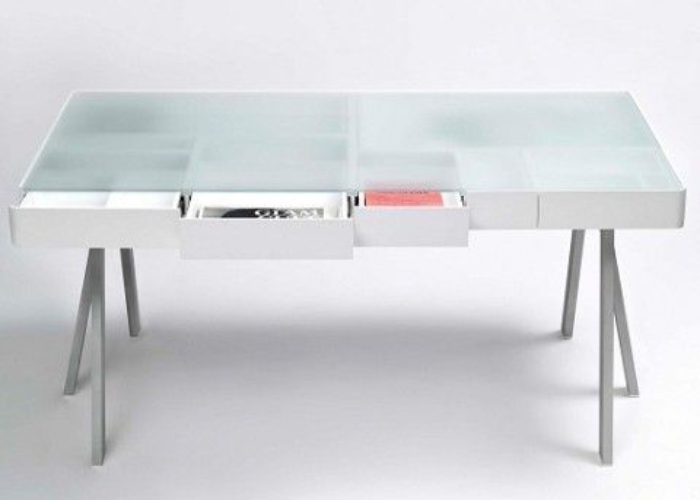 To create a sleek and effective workstation with quick access to materials, place storage cubes or drawers beneath a glass tabletop. Choose whether to mount the cubes directly to the glass top or to use an additional frame and build it to the appropriate height and size. Screw or glue the storage cubes to the frame to ensure they are securely connected.
Summing It Up
All in all, making your own DIY desk is an excellent opportunity to create a personalized workstation that meets your individual needs and design choices. Whether you choose a rustic farmhouse desk, a sleek concrete countertop, a cable management-friendly workstation, or another style, the satisfaction of creating a practical piece of furniture is priceless.
Accept the process, take your time, and celebrate your victories along the way. Whether you're a DIY enthusiast or a beginner, building your own desk will provide you with a sense of success as well as a workstation that is exactly suited to your needs. With a wide range of designs and materials available, these projects create a functional solution tailored to our individual needs. Pick up the tools and create your personalized project according to your convenience.
Embrace the satisfaction of crafting your own desk while enjoying a modern aesthetic in the comfort of your own home or office.